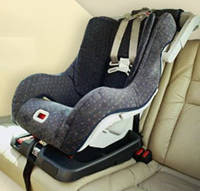 Car Seats
In 2006 the Texas Transportation Institute conducted a survey of seat belt usage among school aged children. They found that fewer than two in ten are properly restrained. According to Safe Kids USA, "in 2005 accidental injury claimed the lives of 5,162 children ages 14 and under, and in 2006 there were more than 6.2 million children's emergency room visits for accidental injuries in this age group."
A car seat should be used if a child weighs less than 40 pounds. The table below lists the different types and positions of car seats depending on their weight and age.
INFANTS: Birth to 1 year/ at least 20-22 lbs.
TODDLER: Older than 1 year/ 20-40 lbs.
YOUNG CHILDREN : 4-8 years old/ over 40 lbs., unless 4'9"
TYPE OF SEAT
Infant only or rear-facing convertible
Convertible/ forward-facing
Belt positioning booster seat
SEAT POSITION
Rear-facing only
Forward-facing
Forward-facing
PROPER USE
Harness straps at or below shoulder level. Never place infants in the front passenger seat of cars with air bags.
Harness straps at or above shoulders.
Must be used with both lap & shoulder belt.
Make sure lap belt fits low & tight across lap/upper thigh area & shoulder belt fits snug crossing the chest and shoulder.
(National Highway Traffic Safety Administration, 2003)
Children will do what you do. Be a good example: always wear your safety belt.