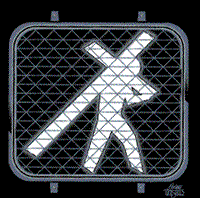 Pedestrians

Pedestrian safety is a serious issue. Like Bicyclists, pedestrians always lose in a collision. Drive cautiously around pedestrians, especially if they may cross your path. Stop for anyone crossing the street on foot. Always yield to pedestrians at crossings. Anticipate their movements. If you see children in the area, slow down.
There were a total of 4,654 pedestrian fatalities and an estimated 70,000 pedestrians were injured in 2007. In Texas there was a total 387 pedestrian fatalities.
Children can be hidden in blind spots below the view of a driver in an SUV or other tall vehicle. If there is a vehicle stopped at a crosswalk don't pass it. It may be stopped for a pedestrian who is hidden from your view.